Complete Your
Patient Intake Form
Welcome to the Charleston Chiropractic Company!
Please fill out your Patient Intake Form online ahead of your visit.
The information you fill in will be sent directly to our office, speed up your office visit, and will help us to better serve your healthcare needs.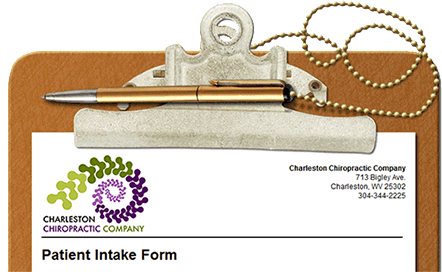 Insurance
Providers
Please note that these are just a few of the (major) insurance providers we service. Please contact our office to ensure that we service your insurance provider.
We will accept all personal injury and workers' comp claims.
Didn't see your insurance company listed? Please inquire about your insurance information, and we will verify within 48 hours.
Please call if problems arise verifying provider status. We will verify all patients' benefits prior to their first visit and explain all charges.
Most
Asked Questions
We are here to help answer any questions you may have. If you have any questions, please contact us at 304-344-BACK (2225).
Do you accept personal inury and worker's comp claims?
Yes! We will accept all personal injury and workers' comp claims.

Certification: DC
Dr. Bulger is BACK HOME! She was born and raised in Kanawha City (Charleston, WV), but has spent the last 12 years outside of Buffalo, NY. While in Buffalo, she started a family, became a chiropractor and started a practice. Bulger Chiropractic was the go to for Sports Chiropractic, but Dr. Bulger wanted to bring her knowledge back to West Virginia. read more

Certification: LMT
Lesia Angel is a Licensed Massage Therapist and 2008 graduate of the Mountain State School of Massage in Charleston, WV. Interest and certifications include, Mind Body Connection, Cranial Sacral Balancing and Eastern Theory. She believes in facilitating well-being through massage, balanced nutrition, active lifestyle and centered thinking and feels massage therapy is both an art and a science. Lesia is especially interested in treating migraine head ache and neck issues, but performs a wide range of modalities, and will work with each client according to individual needs.

Office Manager
Taylor is responsible for making the office run smoothly and she coordinates with insurance providers and manages our office information and technology.